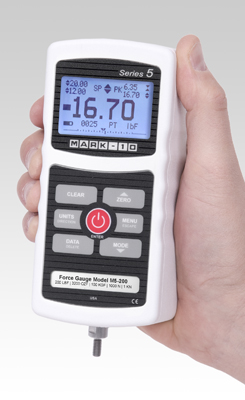 Myometer Kit Series EKM5 EKM5 Mark-10 Vietnam ANS HaNoi
Xuất sứ: mark-10
Nhà cung cấp: Mark-10
Hãng sản xuất: MARK-10
Liên hệ tư vấn

Sales ANS

sales.ans@ansvietnam.com

8428 3517 0401
Myometer Kit Series EKM5, Bộ đo lực Myometer Kit Series EKM5 Mark-10 Vietnam, ANS HaNoi
The Model EKM5-200 Myometer Kit facilitates a wide range of strength assessments and ergonomics studies. Featuring a Series 5 force gauge with 200 lbF (1,000 N) range, tabletop mount, strap, and accessories, this kit is ideal for ergonomists and other professionals.

Conveniently stow all items in the included cushioned carrying case

Carrying case
Tabletop mounting kit for force gauge, for vertical or horizontal orientations
Adjustable length looped strap
Clevis and clasp hook attachments
AC adapter/charger
USB cable
NIST-traceable certificate of calibration with data

---
1,000-point data memory with statistical calculations. Data may be bulk downloaded to included MESUR® Lite data collection software.
Force gauge is compatible with other Mark-10 grips and attachments
Accuracy:
±0.1% of full scale
Sampling rate:
7,000 Hz
Power:
AC or rechargeable battery. Multi-step low battery indicator is displayed, gauge shuts off automatically when power is too low.
Battery life:
Backlight on: up to 7 hours of continuous use
Backlight off: up to 24 hours of continuous use
Capacity x Resolution:
200 x 0.05 lbF, 3200 x 1 ozF, 100 x 0.02 kgF, 1000 x 0.2 N, 1 x 0.0002 kN
Outputs:
USB / RS-232: Configurable up to 115,200 baud. Automatic output available up to 250 Hz. Includes Gauge Control Language 2 for full computer control.
Mitutoyo (Digimatic): Serial BCD suitable for all Mitutoyo SPC-compatible devices.
Analog: ±1 VDC, ±0.25% of full scale at capacity
General purpose: Three open drain outputs, one input.
Set points: Three open drain lines.
Safe overload:
200% of full scale (display shows "OVER" at 110% and above)
Warranty:
3 years (see individual statement for further details)
MESUR™gauge software
Tabulates and plots load vs. time or load vs. travel. Also calculates statistics, exports to Excel, and more.
| | |
| --- | --- |
| Model | Description |
| EKM5-200 | Myometer kit |

All models include 110V AC adapters. Add suffix 'E' for euro plug (220V),'U' for UK plug (220V), or 'A' for Australian plug (220V).
Example: EKM5-100E