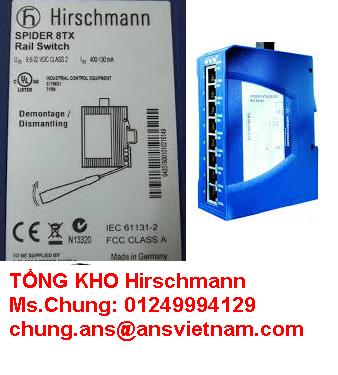 SPIDER 8TX; Rail Switch
Xuất sứ: Germany
Nhà cung cấp: Hirschmann
Hãng sản xuất: Hirschmann
Liên hệ tư vấn

Sales ANS

sales.ans@ansvietnam.com

8428 3517 0401
ANS Việt Nam là công ty XNK hàng đầu và là nhà cung cấp chuyên nghiệp các mặt hàng "Máy móc và các thiết bị Hirschmann nên chúng tôi có thể cung cấp dịch vụ chất lượng nhất với giá tốt nhất cho khách hàng của mình.
Quý khách có nhu cầu về tất cả các thiết bị hãng Hirschmann xin vui lòng liên hệ:
==================================
Ms.Chung (Sales Dept)
ĐT:01249994129
Email: chung.ans@ansvietnam.com
=====================================
Online contact
Yahoo: chungnguyenans
Skype:chungnguyenans
Đặc biệt: - Tư vấn hỗ trợ kỹ thuật cho khách hàng.
- Hàng chính hãng có đầy đủ CO/CQ.
- Giao hàng miễn phí tại kho bên mua.
Chúng tôi cung cấp tất cả sản phẩm của hãng này , nếu không tìm được mã của thiết bị Vui lòng gọi 01249994129, gặp Ms.Chung để biết thêm thông tin của thiết bị và được hỗ trợ kỹ thuật tốt nhất
Mô tả chung về dòng sản phẩm:
The SPIDER range from Hirschmann™, which now includes more than 25 devices, allows cost-effective entry into Industrial Ethernet technology, because these robust entry-level switches can be used in numerous applications, wherever devices in linear or star topology networks are to be connected via unmanaged switches. Thanks to their compact design, these switches can be easily installed in switch cabinets. Since they can be cascaded to any depth, they can also be used to set up local structured networks with short transmission distances. Fiber-optic versions available for large distances allow reliable bridging of up to 128 km – and even strong electromagnetic fields pose no problem.

Benefits at a Glance
A wide range of versions for different media and transmission speeds offers maximum flexibility.
The wide range of variants allows optimal solutions for different application scenarios (such as integration into PROFINET applications)
Extremely economical, thanks to favorably priced ports
Fast Ethernet versions with up to eight sixteen twisted-pair ports plus optional fiber-optic ports for single or multimode fibers or dual-speed SFP Transceivers
Gigabit variants are optionally combined with SFP slots for fiber-optic transceivers and/or features such as quality of service and jumbo frames
IP30 protection standard
Compact metal housing (only SPIDER II 16TX xx)
Redundant 24 V power supply (only SPIDER II 16TX xx)
Wide range of applications facilitated by the robust design and approvals for potentially
Explosive atmospheres (ATEX, ISA 12.12.01) (only SPIDER II 16TX xx
Extended operating temperature range from -40°C to +70°C (applies only to EEC versions)
High resistance to shock, vibration and electromagnetic interference
Top-hat rail mounting and fast startup (plug-and-work)
LEDs for monitoring device and network status
Environmentally-friendly low power consumption
High-availability network, thanks to high MTBF
Visualization in the network management software Industrial HiVision from Hirschmann™
Optimized for Ethernet cables from Belden and all switches from the Hirschmann™ range.
Benefit
Applications
Product Overview
Supporting Info
Newsletter
Don''t miss any news from Belden and its Hirschmann™ and Lumberg Automation™ product brands. Subscribe to new Belden 360° Newsletter.