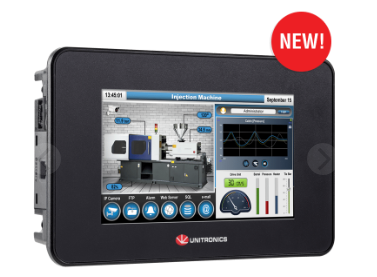 UniStream® 5"- Programmable Logic Controller With Integrated HMI, ANS HaNoi
Xuất sứ: Israel
Nhà cung cấp: ANS HaNoi
Hãng sản xuất: unitronics vietnam
Liên hệ tư vấn

Sales ANS

sales.ans@ansvietnam.com

8428 3517 0401
UniStream® 5"- Programmable Logic Controller With Integrated HMI
Powerful programmable logic controller with high quality HMI touch screen. Multi-function in a superbly compact hardware profile: PLC+HMI+I/Os built into a single unit.
UniStream 5″ main features: Ethernet/IP, VNC, FTP, Web Server, Video + RTSP, SQL Client and more. It is backed by the most efficient programming software you have ever used.
Availability in two versions: 5″ and 5″ Pro
HMI
High quality touchscreen

Multi Language

Built-in image library

UniApps
Communication
EtherNet/IP

Web server*

Send e-mail function

SMS messaging

FTP

SNMP

SQL Client*

GPRS/GSM enabled

Ethernet via TCP/IP

Remote Access via VNC

MODBUS TCP/RTU

Message Composer

CANopen, UniCAN, and more

Video + RTSP*

BACnet, KNX and M-Bus via gateway

Ports: Ethernet, USB host, Audio Jack*, microSD, miniUSB.
Add-on ports: Communication modules RS232, RS485 and CANbus.
UniStream® 5"- Programmable Logic Controller With Integrated HMI, ANS HaNoi