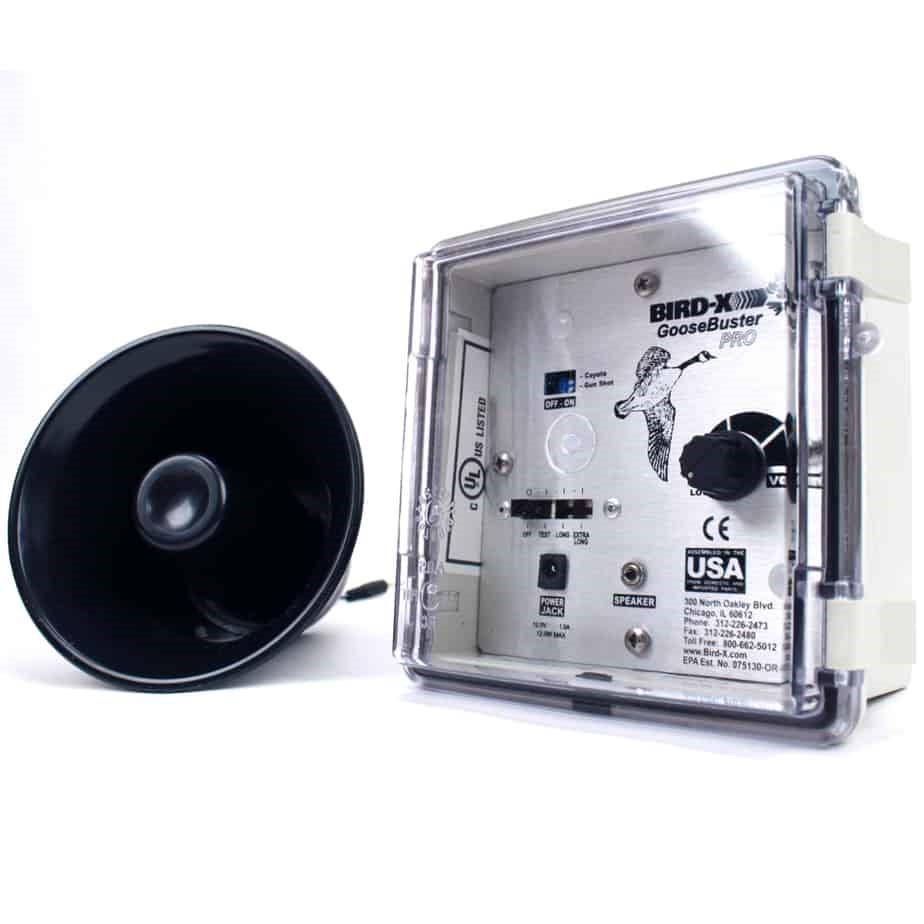 GOOSEBUSTER® PRO SONIC GOOSE DETERRENT SYSTEM – Máy đuổi ngỗng 1 loa đơn,Bird X,ANS Ha Noi
Xuất sứ: USA
Nhà cung cấp: Anh Nghi Son
Hãng sản xuất: Bird X
Liên hệ tư vấn

Sales ANS

sales.ans@ansvietnam.com

8428 3517 0401
Repels the most stubborn Canada Geese from outdoor areas. The GooseBuster® PRO is a single-speaker, economical alternative to the original 4-speaker GooseBuster® (1.5 acres of coverage versus 7 acres). This impressively effective system was developed using decades of scientific research involving the behaviors and vocal communications of Canada geese. The scientifically-proven GooseBuster® PRO broadcasts authentic Canada goose sounds; the alert call lets geese know there is potential for trouble and the alarm call signifies immediate danger. Because the GooseBuster® PRO is programmed to constantly change frequency, duration, and sound combinations – geese feel under threat and evacuate the area without identifying the source.
Single-speaker system covers up to 1.5 acres
Xua đuổi loài ngỗng Canada cứng đầu nhất ở khu vực ngoài trời. GooseBuster® PRO là một lựa chọn tiết kiệm hơn, thay thế cho loại GooseBuster® 4 loa truyền thống, là một hệ thống độc quyền được phát triển qua nhiều thập kỷ nghiên cứu khoa học liên quan đến hành vi và giao tiếp của ngỗng Canada. GooseBuster® phát sóng âm thanh thực tế của ngỗng Canada; âm thanh này cảnh báo cho ngỗng biết nó có khả năng gặp rắc rối và nguy hiểm. GooseBuster® được lập trình liên tục thay đổi tần số, thời lượng và nhiều âm thanh hỗn hợp, khiến ngỗng cảm thấy bị đe dọa và di tản khỏi khu vực mà không xác định được nguồn âm thanh.
Hoạt động bao phủ trong diện tích 1,5 mẫu Anh.